EngFlow Company Newsletter - Q3 2023¶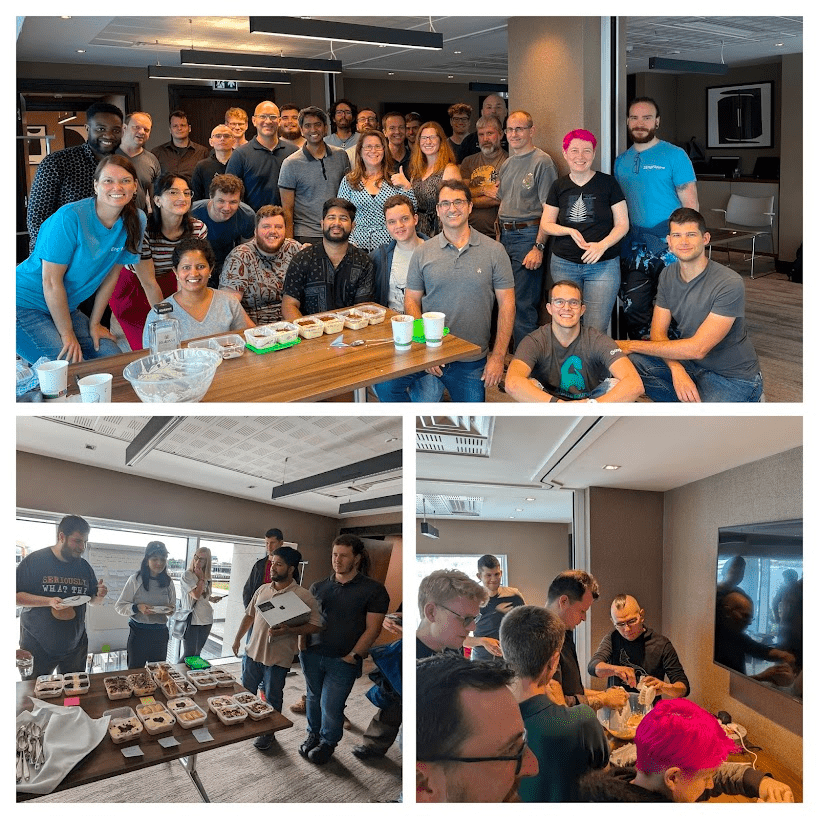 A lot has happened since our last update, so we'd like to provide you with recent and relevant insights. We welcome questions and feedback, which we'll collect via a brief survey below.
From our early days, we have set our company's priorities in the following order: Happy Team, Happy Customers, More Happy Customers. We'd like to provide you with a few updates in that construct.
Happy team¶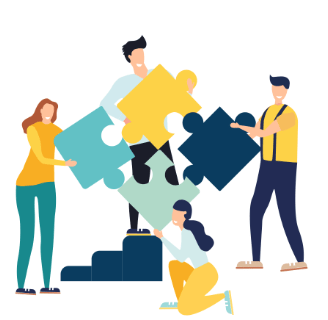 In August, we held our third annual EngFlow summit in Belfast, Northern Ireland. Since our inception, we've brought our team together for various events (often taking place where our employees hail from) — visiting the U.S., Germany, Colombia, Iceland, Israel, the UK, and Portugal. Being a fully remote team, we value the chance for connection and collaboration that these in-person experiences provide. We're looking forward to planning our 2024 adventures.
We've grown this year by 7 employees - get to know us here. This summer we bid adieu to Sarah Raza, who we called our founding intern, as she joined us pre-seed funding, and was instrumental in helping us get into the Alchemist Accelerator (opening doors in Silicon Valley to mentors, a16z funding and beyond). Sarah graduated from Stanford University this spring, and is now working on her own healthcare AI startup. We're thankful for her efforts since 2020, and are cheering for her success as an entrepreneur!
Happy customers¶
EngFlow UI: Cost and Performance auto-suggestions¶
This year we continued investment into our EngFlow Platform, implemented the cache hits/cache misses analysis for each invocation, and connected the Bazel Invocation Analyzer with our EngFlow profile analytics for in-platform recommendations on how to make your invocations more performant and cloud-cost optimized. This means that with every Bazel build and every test you will get proactive suggestions in the platform on how to improve your cost and performance! This is especially helpful as you are migrating more code into Bazel.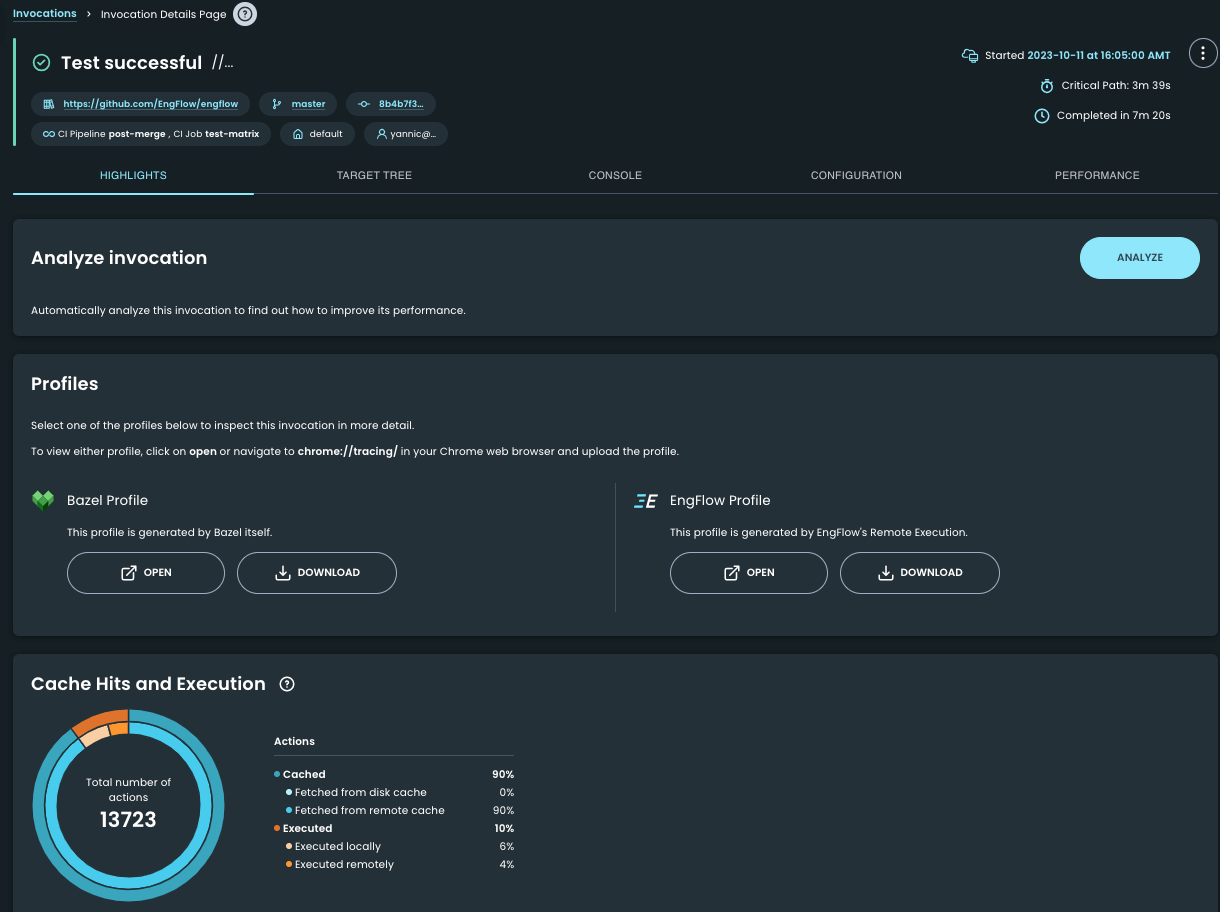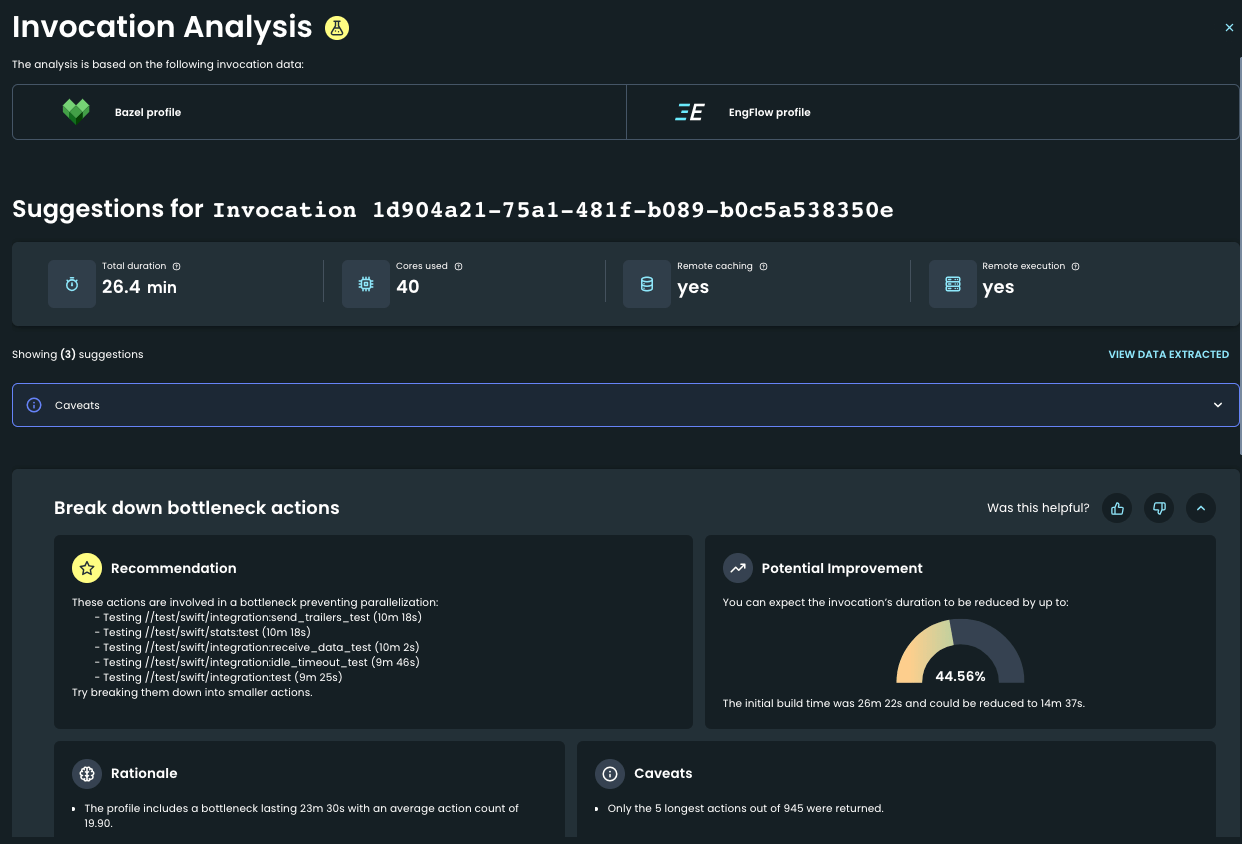 Goma deprecation and migration to Reclient¶
Last month Google announced the deprecation of Goma, and the open sourcing of Reclient, the new path to making your Chromium, AOSP and other non-Bazel builds compatible with remote execution. Our engineer Ola Rozenfeld, who worked at Google on the design of the RE API and development of Reclient, published this blog where you can get more insight into the differences and next steps. We will be working with all of our customers on the Goma to Reclient migration, including some live migrations planned at the Build Meetup in Reykjavik on Oct 20 - join us, or reach out with questions!
Customer migration from multiple RBE systems to EngFlow¶
At our Bazel Community Day in Tel Aviv earlier this year, Wix presented how they migrated from another commercial remote execution provider to EngFlow with zero downtime and reduced their cloud costs by 20%.
More happy customers¶
Breaking News: EngFlow Adds CMake Remote Execution¶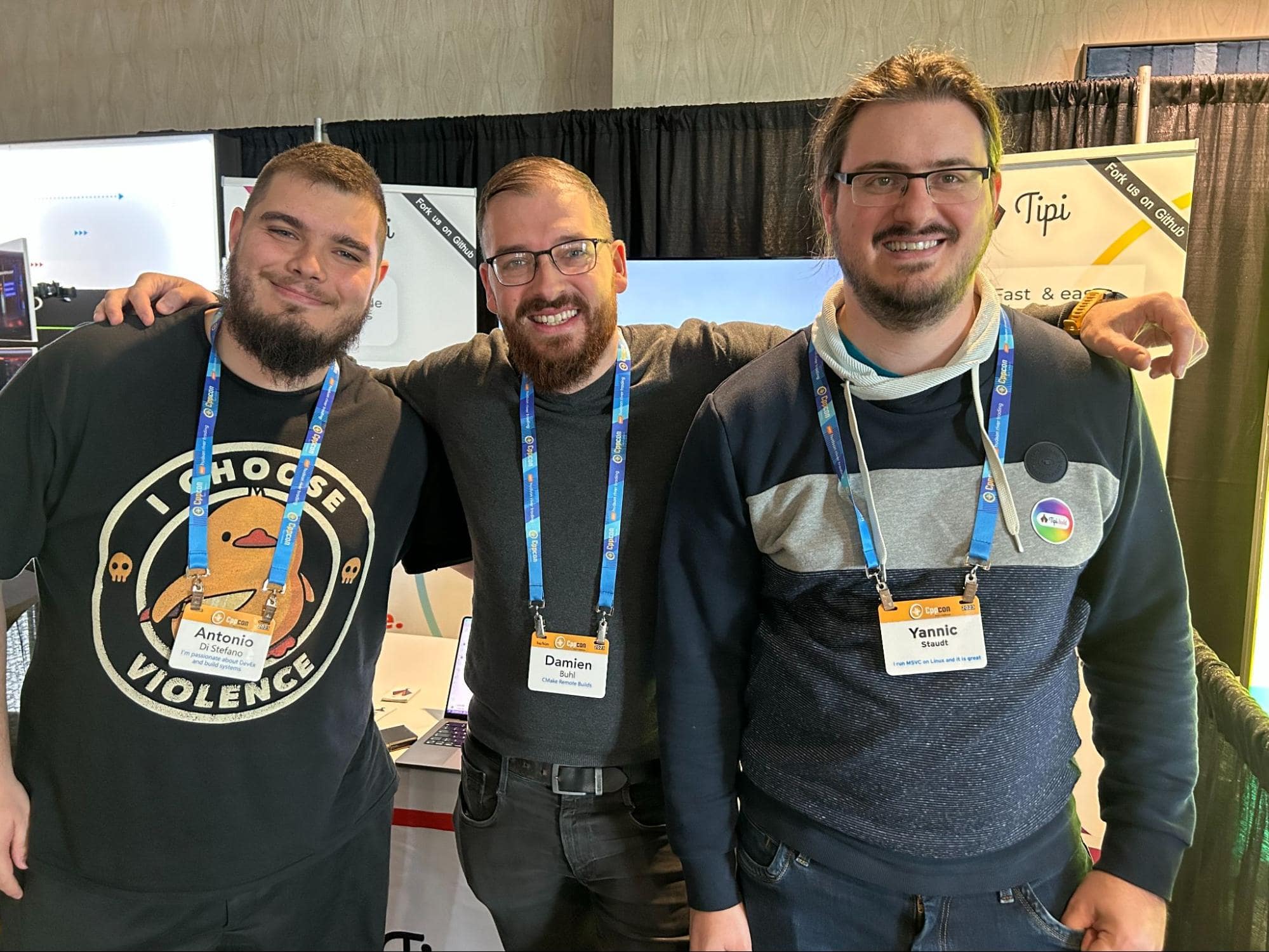 On October 5, EngFlow and tipi.build announced a new partnership and released a Beta version of their Remote Execution for CMake service at CPPCon! We are accepting new Beta participants, so contact us to find out more and see EngFlow's Remote Execution run on CMake, or let us know of your interest through the link below.
To learn more:
Build community happenings¶
Over the past 3 years, the EngFlow team partnered with the build community and hosted 7 events (Bazel Community Days, the Build Meetup, EngFlow Customers & Friends events). We hosted over 800 engineers passionate about making builds and tests fast, and developers more productive. We brought engineers together in New York, San Francisco, London, Tel Aviv, virtually, and are now bringing these meetups to Reykjavik and Munich!

Here's a look at where we've been and where we're headed in 2023. Join us!
Tech tips¶
It's been a while since we shared a "Tech Tip of the Day," so we couldn't resist putting together a whole list this time! Check out a recent blog post by our own Benjamin Peterson on Bazel Testing Tips. We hope this post will help you improve your workflow and productivity right away.
Thanks, see you soon, and feedback¶
We're looking forward to seeing you in person or virtually at BazelCon in Munich, and at our meetups around it. Stay tuned for more announcements from us this month! Please take two minutes to leave your feedback on the newsletter and working with us.